How was your second week? Are you starting to get used to the FEA Elite study approach? How many challenging questions have you captured in your question log? I hope your flash cards are starting to pile up as well? Please fill in the week 2 progress report so I can keep you accountable if you are lagging behind.
The week to come (Quants):
Now, let's have a look at the week to come. We'll continue working our way through the remaining 2 readings in the first "basic concepts" study session, moving on to complete the first reading in quants application. How is the tempo by the way? Are you managing to keep up? It is very important that you detect early if you have gone for a too ambitious study plan. If you are already trailing by a fair margin at this stage, it might be worth it to have a look at some of the abbreviated study guides. You do not want to end up invading the time that should otherwise be allocated for question practice. We recommend the Wiley CFA Exam Review Products (previously known as Elan Guides).
Quants, you either love it or hate it. Whichever one it is, you are starring at another lumpy part of the test (12%) and a whole host of foundational concepts that you will be relying on throughout the CFA program. So it makes sense to pay attention here. We will be employing the same tactics as last week in attacking each reading:
Write down the LOS on individual flashcards (physical or electronic) so that you have them handy, and can actively seek out and write down the answers as you progress through the individual readings, also stay on the lookout for key concepts and formulas in particular in these readings and write them down on flashcards in a question format (with the answers and relevant book-, reading-, LOS- and page number on the flip side). Go through the flashcards the following day and make a note of the flashcards that you struggle to recall the answer to in your question log.
Answer the end of chapter questions in the underlying curriculum once you have finished the reading (even if making use of an abbreviated study guide). List the questions that you find challenging as well as the questions that you answered incorrectly in you question log.
Practice the end of chapter questions and flashcards from your question log one more time the following day and make a note of any end of chapter questions and flashcards that you are still struggling with in your question log. Repeat this process for as many days as necessary until you have mastered all. You can continue with the next reading in parallel, but do not cut this process short until complete.
One caveat regarding this approach as it applies to this study session is that most of the end of chapter questions in reading 5 are not actually multiple choice questions, some of them have got numeric answers whereas others prompt you to provide definitions and similar. This feature makes it a bit more difficult to objectively measure whether or not you have answered correctly. There is no silver bullet here, just try and mark your own answers as fairly as you can.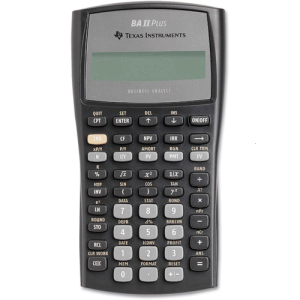 Lastly, if you are not super familiar with your calculator yet, this is probably a good time to have a look at it. If you have literally just unwrapped the calculator and is not sure what to do with it, I would recommend having a look at this brief and handy guide over at 300hours to get you started. This guide is tailored for the Texas Instruments BA II Plus calculator by the way, as most people opt to buy that one.
When you are done with the tasks this week, please do not forget to record your progress in the week 3 progress report. I cannot stress enough how important it is, not to fall behind schedule when studying for this test.
In week 4 we will be completing Quants and starting Economics.